Alright, for this edition of Techie Rundown we will be discussing some hot digital cameras released just recently by Canon. I'll be displaying their prices as well, so that you'll be guided accordingly when it comes to purchasing one of them.

Here we go:


Canon Digital IXUS 95 IS

This affordable 10-megapixel compact offers a 3x optical zoom lens with Optical Image Stabilizer and a 2.5" PureColor LCD display.
Crafted in pure aluminum and molded with perpetual curves, it makes for comfortable, ergonomic handling.
Armed with advanced Face Detection Technology and available in six vibrant colors (silver, grey, green, pink, orange, and blue), the IXUS 95 is every social chameleon's best gadget companion.
Price: PhP 19,950.00
Canon Digital IXUS 100 IS
The very essence of chic, the 18.4mm-thin IXUS 100 IS is the slimmest IXUS ever released. It comes in a sophisticated gold and silver, a bold red, or a classic black.
Don't underestimate its lithe frame though for this compact camera is packed with a 3x optical zoom, 33-100mm lens with Optical Image Stabilizer and records HD movies.
You can also flip through your masterpieces on its 2.5" PureColor II LCD display.
Price: PhP 21,950.00
Canon Digital IXUS 110 IS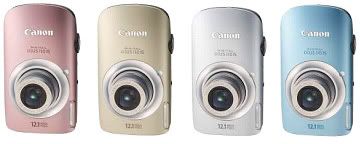 For pictures with large group of people, the IXUS 110 IS offers a 4x optical zoom lens with OIS that starts at a nicely wide 28mm.
The wide angle also makes for wonderful landscape photography and will spare you from the less-than-pleasant experience of having to squash your back to a wall the next time you attempt photographing or recording an HD Movie of your group of buddies in a small space.
Enjoy your memories on its 2.8" PureColor II LCD Active Display. Choose from elegant gold or silver or playful pink or blue.
Price: PhP 23,950.00
*****

Cool cams, isn't it? Well, I hope that I'm able to help you out deciding for a new cam. Anyway, you can purchase these cams at Glorietta 4. I've seen them already and God, they're so much cool.
For more updates, you can subscribe to my feeds or follow my blog. Till' then, this is your Techie Princess Melissa signing off! :)