For this edition of Techie Review, I'll be reviewing a new SLR camera from Canon: The Canon EO5 500D. Here, check this out: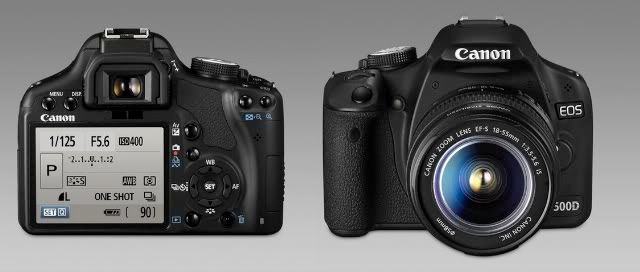 Canon has just announced the 15.1 megapixel EOS 500D, known as the Rebel T1i in the US market. It's a high-end consumer model which shoots HD video.
The upper-entry-level camera features a 15.1 MP APS-C CMOS sensor with 1080p HD video recording at 20fps. It also offers a 3.0 inch LCD with 920,000 dot resolution and an ISO sensitivity range expandable up to 12800 equivalent. It includes a faster Digic 4 processor offering better noise reduction at higher ISO's and continuous shooting speeds of up to 3.4 fps delivering 170 large JPEG images in a single burst.

Features at a glance:
- 15.1 Megapixel APS-C CMOS sensor
- Full HD movie recording with HDMI connection for viewing and playback on an HDTV
- ISO 100-3200 (expandable to 12800)
- 3.4 frames per second continuous shooting
- Max. 170 large JPEG images in a single burst
- 3.0" ClearView LCD with Live View mode
- 9-point wide area AF with cross type centre point
- High speed DIGIC 4 performance and superb image quality
- EOS Integrated Cleaning System
- Full compatibility with Canon EF and EF-S lenses and EX-series Speedlites, including new Speedlite 270EX, TS-E 17mm f/4L and TS-E 24mm f/3.5L II
Technologies Explained:
CMOS
Canon's CMOS technology is one of the company's key competitive advantages, with noise reduction circuitry at each pixel site delivering virtually noise-free images. In comparison with CCD technology, the lower power consumption characteristics of Canon's CMOS sensors also contribute to longer battery life.
Signal conversion in Canon's CMOS sensors is handled by individual amplifiers at each pixel site. Unnecessary charge transfer operations are avoided, vastly speeding up the process of getting signal to the image processor. Noise generation is reduced, power consumption is limited and faster frame rate potential is increased.
DIGIC
Image data captured by the CMOS sensor is processed by Canon's purpose-built DIGIC image processors before being written to the camera's memory card. DIGIC technology uses advanced image processing algorithms to ensure precise, natural colours, accurate white balance, and advanced noise reduction. Ultra-fast processing speeds result in highly responsive camera operation and near-instant start-up times.
DIGIC chips work with a high speed image buffer – reading, processing, compressing and writing image data fast enough to keep the buffer clear during long continuous shooting bursts. And because DIGIC integrates all key processing functions, power consumption is kept to a minimum.
EOS Integrated Cleaning System
The EOS Integrated Cleaning System combats sensor dust in three important ways: Reduce, Repel and Remove.
Reduce - Internal camera mechanisms are designed to minimise dust generation. The redesigned body cap prevents dust generation through wear on the cap itself.
Repel - Anti-static technologies, including a special fluorine coating, are applied to the low-pass filter covering the front of the sensor so as not to attract dust.
Remove - A Self-Cleaning Sensor Unit uses hi-frequency vibrations to shake dust from the infrared filter for a period of approximately one second after each start up. For instant shooting after power up, this feature is disabled immediately the shutter release is depressed.
Canon has also developed an internal Dust Delete Data system, which can map the position of visible dust on the sensor. This can then be deleted automatically after the shoot with the latest Digital Photo Professional software.
Clear View LCD
Canon's Clear View LCD screens are 3.0" in diameter and feature a VGA (640×480) pixel resolution with 920,000 dots. This allows high-quality viewing of images and ultra-accurate focus checks in playback. Thanks to a wide 170º angle-of-view, a Clear View LCD can be viewed in a wide range of environments with ghosting and reflections being eliminated thanks to Canon's unique dual layer anti reflective coating. This combination of features enables photographers to enjoy shooting from awkward angles.
Full HD
Thanks to the combination of a Canon CMOS sensor and DIGIC 4 processing, Canon is able to offer Full HD resolution movie recording in a digital SLR camera. An HDMI connection provides the ability to play back movies directly on any HDTV in high quality HD resolution. Canon's Full HD products feature the same maximum resolution available for HDTV's (1920×1080 pixels), ensuring outstanding clarity. Full HD exceeds the quality found in HD ready (720) resolution devices.
Picture Style
Picture Style pre-sets simplify in-camera control over image qualities. Picture Style pre-sets can be likened to different film types – each one offering a different colour response. Within each selectable pre-set, photographers have control over sharpness, contrast, colour tone and saturation. The camera's factory default configuration is set to deliver immediately-usable JPEG images without need for additional menu settings. Picture Style presets applied to a RAW image can be revised with Canon's Digital Photo Professional software.
Alright, so there you go. In a bit, I'll be giving a quick review about these new Samsung Phones, so keep it locked in here. :)