As I've told everyone in yesterday's blog post, I bought myself a new Nokia mobile phone- the N96. Well, my reason for buying this phone was because I was so curious with its functions and why most of these tech reviewers like it. So, this one's gonna be quick. :)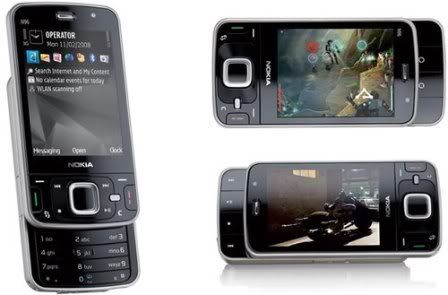 The Nokia N96 is a GSM/WCDMA dual mode portable multimedia computer supporting EGSM 850/900/1800/1900, WCDMA 900/2100 HSDPA, WLAN and DVB-H Video.
With a 2.8-inch screen, 16GB of internal memory and support for video in a wide range of formats, the dual-sliding N96 will offer a DVB-H TV tuner for live TV broadcasting in select markets.
The Nokia N96 supports common video formats including MPEG4, Windows Media Video and Flash, while transferring and accessing videos is fast with a USB 2.0 connection and WLAN and HSDPA support.
The storage capacity of the Nokia N96 can be further expanded with an optional microSD card, such as the new Nokia 8GB microSDHC card which increases the available memory of the Nokia N96 to an impressive total of 24GB.
In order for owners to best watch all that TV, the Nokia N96 features a "kickstand" on the back cover that allows for hands-free viewing. The N96 also features media keys, a 3.5mm headphone connector and built-in 3D stereo speakers.
In addition to the video side of things, there's the Nokia Maps application with AGPS, a 5-megapixel camera with Carl Zeiss optics, flash and video light and video capture.
However, some of the consumers were turned off by these negative points regarding the phone:
Negative
CPU: N96 has dual ARM9 264MHz with no floating point instructions (N95 has dual ARM11 332Mhz with vector floating point)
N96 has 8x image digital zoom and 4x video digital zoom (while N95 has 20x digital zoom and 8x video digital zoom)
Same battery as original N95 (950 mAh), but the N96 reportedly has a much better battery life using the same battery (Nokia N95 8GB has 1200 mAh)
No Hardware 3D graphics accelerator for N96
No infrared port
N95 classic has lens cover and much more qualitative shutter (N95 8G/N96 don't have this feature)
No manually selected MMS messaging mode. If you write a long text message it will automatically select the MMS mode which could stop the recipient from receiving the message if they do not have MMS set up on their handset. (A Nokia USA employee stated that there is an update in the works to fix this very soon) It's assumed that this automatic selection of MMS mode is due to Nokia's Smart Connectivity)
VoIP 2.1 support for WLAN and Cellular. However, the built-in VoIP client from N95 which allowed the end-user to make internet calls directly without installing any additional software has been removed from N96. The VoIP API which can be used by software developers in their applications, can still be used though. Of course third party VoIP applications are often neither as reliable, nor as flexible as the built-in one. This has changed recently with [www.nimbuzz.com/ Nimbuzz] a client that works better than any inbuilt software, so this is no longer a drawback with the n96.
The pencil button that allows you to mark/unmark items and highlight text is not included. But this action can still be done however, by pressing and holding down the # key'.
Well, don't worry though. There are a lot of affirming specifics that places N96 on top of its predecessor:

Dual-LED camera flash (single LED in the N95 8G)
New audio DSP
Longer music playback time (14 hrs) and video playback time (6 hrs)
Windows Media WMV9 video codec added
Hardware acceleration for video codecs for H.264 and WMV
Mobile TV DVB-H 1.0 receiver built in
S60 3rd Edition is upgraded from Feature Pack 1 to Feature Pack 2
Symbian OS upgraded from version 9.2 to 9.3
The Java ME engine is upgraded from MIDP 2.0 to MIDP 2.1
User data is preserved when upgrading firmware (this feature is also present on the N95-2 as v21 installs UDP base files)
Open C/C++ support
New QuickOffice application opens all types of Microsoft Office files
New version of Nokia Video Centre (show & edit videos)
New release of Nokia Experience software
Micro 2.0 Hi-Speed USB (write 3 Mbit/s, read 4.1 Mbit/s - N95 8GB use full-speed USB)
MicroSD memory card slot (as in original N95, while N95 8GB has no card slot)
RSS 2.1 Reader
N96 is a dual-band HSDPA (900 and 2100MHz, while N95 was a single band 2100MHz)
No need to open the slide for optimal GPS reception
Nokia N96 has VGA front camera (N95 8G has CIF)
Video Flash light
Upgraded Bluetooth stereo audio
FOTA (Firmware Over the Air)
OMA E-mail Notification v1.0
OMA Device Management v1.2
OpenGL ES 1.1 plugin
Dual Transfer Mode (MSC 11)
Support SPP Bluetooth profiles
In order not to keep the phone's abilities vague, let me give a rundown of its main specifics aside from those mentioned above:

Dual band UMTS / HSDPA: UMTS 900 / 2100 N96-1 (RM-247, Global), UMTS 850 / 1900 N96-3 (RM-247, Global), no UMTS N96 (RM-297, PR China)
HSDPA and Wi-Fi access (RM-297 variant (PR China only) does not have WCDMA, WLAN and DVB-H)
DVB-H Mobile TV (network-dependent feature)
A-GPS Navigation using Nokia Maps, map data fetched using 3G or downloaded over the Internet and transferred to the phone over USB
Access to Ovi
Full xHTML, HTML, RSS reader browser
Symbian OS v9.3 S60 3.2 Edition, user interface
16 GB of internal flash memory
Max memory 24GB (16GB internal + 8GB MicroSD)
2-way slide, as in Nokia N95
5-megapixel camera, Carl Zeiss TESSAR optics
Sensor for Auto-rotate
VGA camera in front of the phone, for video calling and self-portrait use
Dual LED flash for the camera
Bundled with WaveSecure in Indian variant
Plays music files, and lets you download easily via Nokia Web
Allows high-quality video calling using 3G
A built-in accelerometer when tilted as on the Nokia N82
The new design includes:

Landscape-oriented design (landscape oriented speakers, connectors and buttons located optimally for landscape use)
Flip-out kickstand
Media keys available in all modes (even when slide is closed, for background control of music)
Media keys on short side can transform into gaming keys
Lock switch (enables quick lock / unlock of keypad)

128 MB RAM

Available memory for the user is 90 MB after operating system.

Can play various types of music files such as MP3, AAC, eACC, AAC+, eAAC+, WMA, WAV, Mid, RM (real), RAM( real), AMR, M3U (playlist)
Can play various types of video files such as RM (Real video), H.263, H.264, 3GPP, HQ-3GPP (30fps), MP4, WMV, FLV (Flash player)
Personally, I liked this phone so much than N95 due to its sleek design and functions as opposed to its predecessor's rather rigid structure, plus its edge over the mobile phones' multimedia aspect.

Despite the negative thingies, I'm giving this phone a grade of 9 out of 10. :)